The South of England has such a variety of canals & rivers to offer, there is something to suit every boater! Highlights include Windsor Castle, the historic cities of Bath and Oxford, Blenheim Castle and picturesque landscapes of leafy Surrey and Hampshire counties.
Exploring Bedfordshire:
Starting on the southern section of the Grand Union Canal, you can cruise through Bedfordshire towards the Blisworth Tunnel and the canal-side village of Stoke Bruerne with it's canal-side museum. This stretch of canal offers a variety of changing landscapes ranging from woodland and fields to suburban cruising. There's a good selection of eateries along the canal, and for family groups you can spend time off the boat exploring nearby Gulliver's Land.
Exploring Berkshire & Buckinghamshire:
Discover the eastern side of the Kennet & Avon Canal cruising to Reading and Newbury on the canal or cruise onto the River Thames to visit the vibrant market towns of Henley, Windsor or Marlow. For the active boater, there are locks and bridges to open around every bend on the canal, or for a more relaxed cruise, explore the River where the locks are generally manned during daylight hours!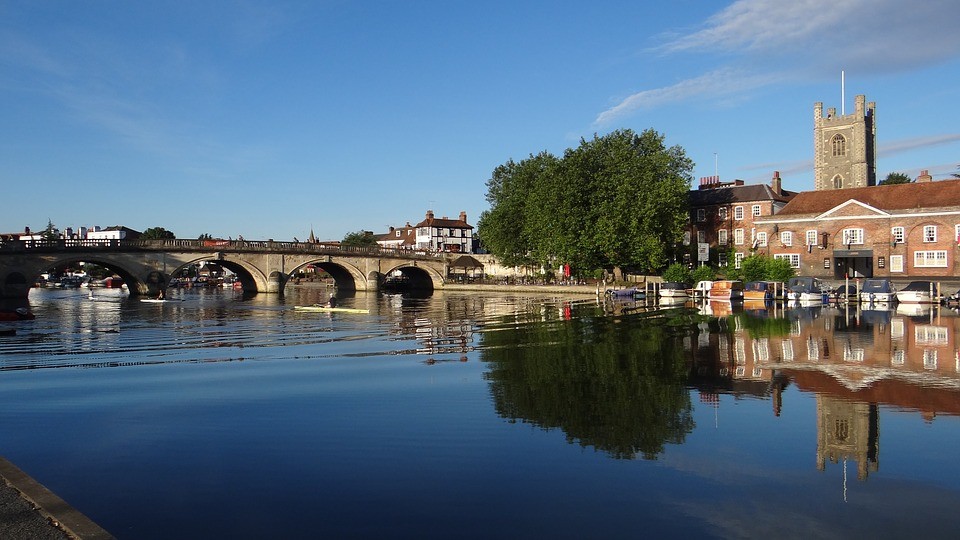 Exploring Oxfordshire:
Explore the South Oxford Canal between Oxford City and Napton Junction. This winding canal passes through plenty of fields with cattle and sheep, leading you into the Heart of England. There are plenty of locks and bridges, as well as a selection of Oxfordshire towns and villages to visit.
The Upper Thames spans from Lechlade heading west past Oxford City to Benson. Heading west from Oxford on the River, the navigation becomes narrower, almost resembling a canal, with overhanging willow trees and views of back gardens, this quieter stretch is well worth an explore.
Exploring Somerset & Wiltshire:
The Kennet & Avon Canal spans from Bath in the west through to Reading in Berkshire in the east. A canal of two halves, hiring a boat in West Country provides the perfect opportunity for exploring the historic City of Bath, hillside cobbled town of Bradford-on-Avon, and scenic cruising to the Caen Hill Flight of locks at Devizes.
Exploring Surrey & Hampshire:
The Basingstoke Canal in Hampshire is picture perfect and ideal for novices looking for a relaxed introduction to boating. Set in the Hampshire countryside, this quiet canal offers a good selection of pubs, an abundance of wildlife and scenic views. Explore the remains of 'King John's' castle and visit Greywell Tunnel, now closed to navigation but renowned for its colony of bats.
The River Wey is situated in Surrey and is ideally located for those wishing to escape the hustle and bustle of London. On a short break you can explore the whole of the navigation between Weybridge to Godalming. Over a longer holiday you can cruise onto the River Thames and explore attractions such as Hampton Court, Legoland or Thorpe Park.